Welcome to Baldwin County SHRM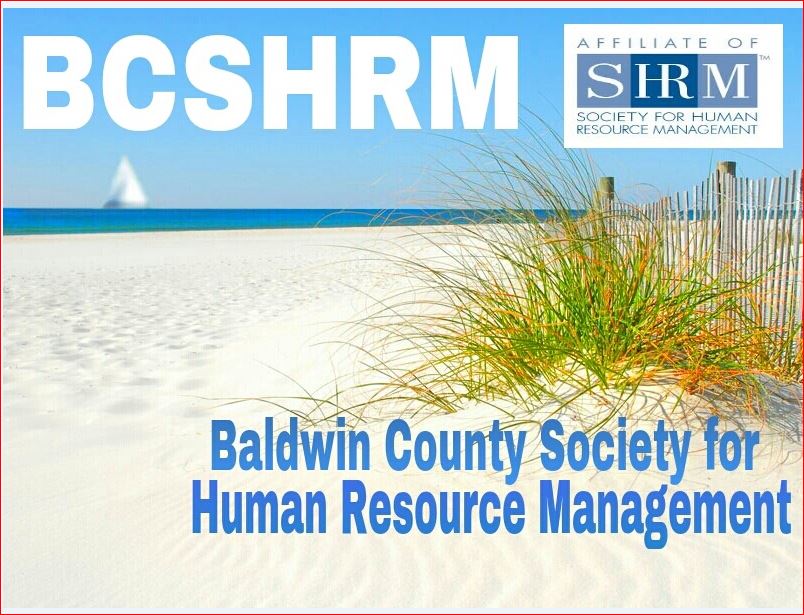 Baldwin County Society for Human Resource Management (BCSHRM), exists to promote quality human resource practice among local industries, businesses, educational institutions, and governmental agencies; and to provide leadership to workforce development efforts in our area. Our chapter is in Baldwin County, Alabama and is affiliated with the Society for Human Resource Management, our national organization that represents more than 200,000 individual members and is the world's largest association devoted to human resource management. We bring together leading practitioners to provide education, networking and discussion of human resource topics; and to identify best practices for all aspects of human resource and industrial relations work.
We are an affiliate of the Society for Human Resource Management. Whether you are new to the HR field or have many years of experience, we are a local starting point for networking, information, professional development and continued support of excellence in Human Resources.
We welcome your use of this site as a resource, and encourage you to check back frequently for updated information. We also encourage your involvement and suggestions about all of our activities, on the web and off.
We look forward to seeing you at an upcoming meeting or event!
BCSHRM...promoting excellence in HR management
Interested in BCSHRM?
We strongly encourage pursuing membership with Baldwin County SHRM.
If interested, please apply for membership via email (bcshrm.info@yahoo.com) or by contacting our Membership Director Lana Mosley (Lana.Mosley@siriustechnical.com)
General membership meetings Information
Date: Meetings held the fourth Thursday of each month
Location: Lake Forest Yacht Club, Daphne, AL
Time: 8 – 9:30 a.m.
8:00 a.m. – 8:15 a.m. (Network/Social/Chapter Updates)
8:15 a.m. – 8:20 a.m. (Sponsor)
8:30 a.m. – 9:30 a.m. (Speaker of the Hour)
Cost:
Breakfast meetings: $10 for members; $15 for Non-members
Lunch meetings: $10 for members; $15 for Non-members
(Non-members are charged a fee of $15 for Recertification credit per meeting)
Click here to read our Privacy Policy.
_________________________________________________________________________